It's no secret that many people with autism face severe speech impairments. The National Autism Association states that approximately 40% of those with autism are non-verbal. That's a lot of people, and AAC can be a huge help in their lives.
.
Even though autism accounts for a large portion of people who struggle to speak, it isn't the ONLY diagnosis that is aided by the use augmentative communication.
Powerful speech disruptions can stem from diseases like ALS, Parkinson's, cerebral palsy, or certain cancers. Language can also be severely impacted by a stroke, traumatic brain injury, or dementia.
In every case, those facing debilitating communication struggles need a way to express their thoughts, ideas, concerns, feelings, and needs to the people around them.
AAC MUST evolve to meet the needs of every user who can benefit from speech generating technology. And that is just what CoughDrop aims to do.
As a flexible, user-driven app, CoughDrop allows users to mold their speech to fit personal needs. With pre-populated core boards, completely customizable buttons, speech recording options to capture a person's voice, and the ability to include full phrases or photographs for quick message delivery there are options to fit every need.
Whether the users are adults or children, need core vocabulary or one button sentences, have no voice at all or just need extra help with words AAC should bridge the communication gap that stretches between people.
Because that's what communication is really about. It is about connecting people. It is about building relationships and strengthening bonds. All people -- despite their disabilities -- deserve a direct gateway to communication.
Communication (augmentative or otherwise) is much much more than requesting a certain food or answering simple questions. Communication is a means of expressing who you are and engaging with the world.
It is important to remember that no matter the reason for the language loss, the person behind the impairment still has a voice that should be heard, even if it takes technology , work, and patience to help it happen.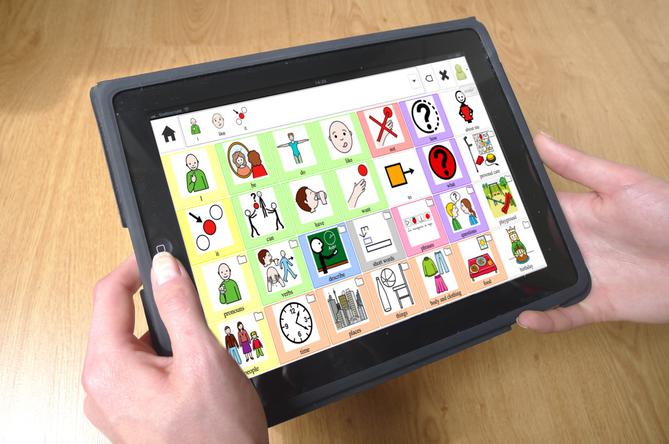 Learn more about using AAC for many diagnoses