AAC Holiday Activity Calendar
AAC is all about communication (after all, that's the "c" in AAC).  
When the world around a communicator is full of celebration, excitement, and fun that really gives some great motivation to get the words flowing.
There are DOZENS of normal and natural opportunities to encourage communication every day (think commenting on recess, asking about family, looking at hallway art, noting the weather, planning for lunch, etc).  One beautiful thing about holidays is that they expand those communication opportunities and stretch into areas that might not be available during other times of year.
Talking about favorite seasonal songs, the excitement of parties, beloved decorations, unique activities, fun movies and shows, family events, visiting Santa, and more might be great chances to dabble in language learning and expand AAC options.
We should note that for some communicators, schedule changes and disruptions from the normal can be unsettling and if that is the case it might be better to leave out the spice of holiday-themed learning.  It is essential that supporters get to know their communicators to understand and respect personal needs.  A "fun" activity is not very fun if it causes undue stress or anxiety.  Just keep your communicator in mind.      
To try to help keep communication growth available even in a pinch, we've created a calendar of simple language activity ideas that can be done with very little prep and focus on an AAC theme.
Print a copy and keep it on hand for unexpected needs, plan around some options that work for you and your communicator, or share with teachers or families to help keep the communication happening everywhere.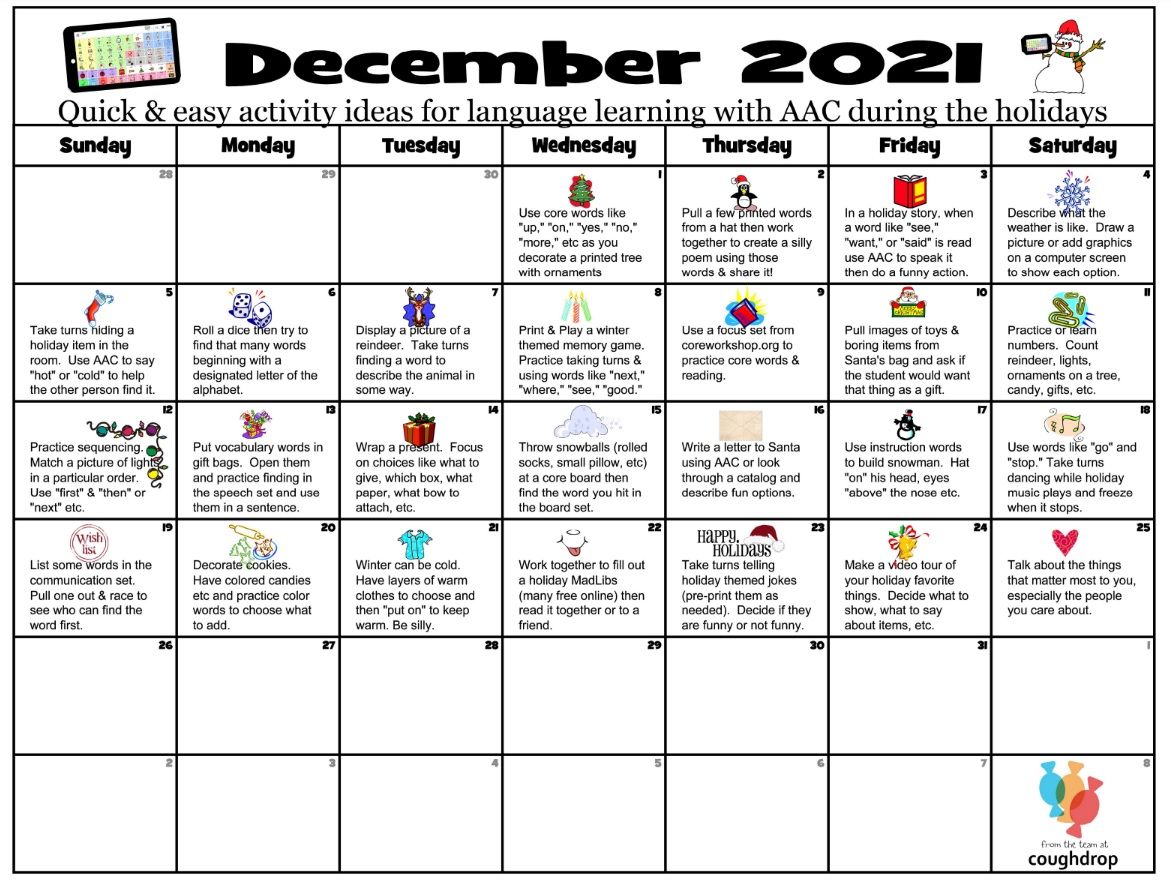 Get a printable version of our AAC Holiday Activity Calendar here.
We hope your holiday is magical and full of TONS of fabulous things to talk about.