The start of a new year is a GREAT time to set new goals and make plans for the future.  
As an AAC supporter, there is always a way to improve and grow.  Since communication is a skill that requires two people to interact, the goals we set to broaden AAC skills apply not just to communicators, but to us as communication partners as well.  We can choose to refine our communication skills each day.
When we choose to take ownership of opportunities for advancement not only for but also with our communicators we set the stage for delicious moments to come. Teamwork is a fabulous factor in the recipe for success.
While it is unlikely that one perfect piece of the communication pie will catapult language learning into the "completely accomplished, no more work to do" category, dishing out a daily sample of simple speech moments will definitely keep everyone moving toward success.  
So, instead of rounding up the usual suspects and helplessly wishing for gargantuan leaps forward in AAC communication, we challenge you to adjust your appetite and instead create a flavorful menu of manageable AAC tidbits to foster good habits, pivotal skills, and forward progress.  
Your goals may look like one weekly challenge you'd like to tackle in communication:
Use a greeting with someone from class
Tell about a topic you want to learn about
Use words for colors or feelings
Model the core word of the week every day
Your goal may be more geared toward behaviors that create a better learning environment:
Respond to every communication attempt even if you don't understand it
Make core communication boards more available throughout the room or home
Allow 5-10 seconds before helping or asking again for a response
This year, we decided to set some goals that are divided by the days of the week.  A quick glance at this menu of daily reminders might be a good way to stay on course with AAC communication.  There are morsels here that would likely tempt every member of the communication team.  If everyone took just a taste and applied even one or two options each week, imagine the smorgasbord of skills you could pull together.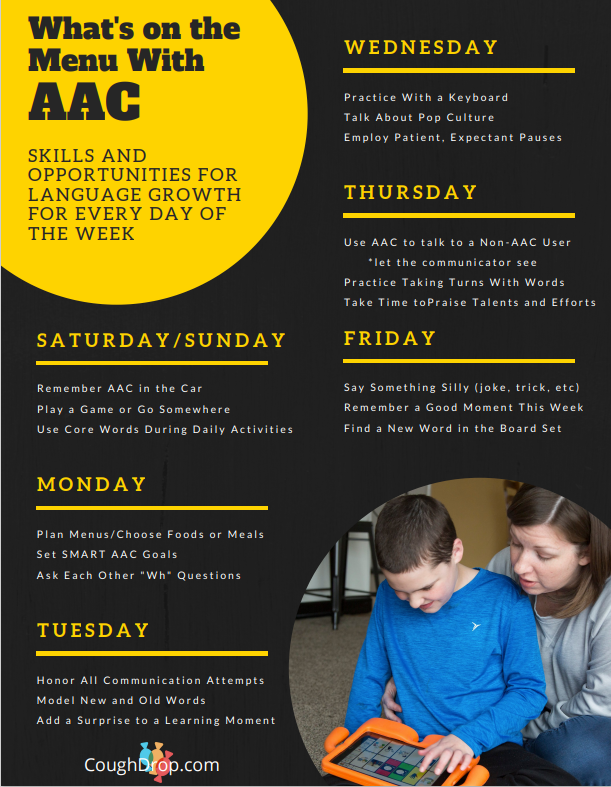 Whatever opportunities you choose to pursue, remember that every step forward counts.  We'll be cheering for you.