AAC & Telepractice: Connecting Online to Support Communication
While telepractice in speech therapy has existed for a while (specifically for AAC 'cause it's our favorite) lately it has REALLY jumped to the forefront.  Who hasn't had to leap into Zoom to try to stay in contact with students, families, and others?  Being able to connect remotely to communicators that you can't see in person is no longer just a nice bonus, it is a vital need.

At CoughDrop, we are pleased to be part of the telepractice solution for many communication teams.  Grab our FREE teletherapy support kit full of tools & supports here:
Our cloud-based foundation in AAC makes it a natural fit for connected, online learning and growth.  Augmentative communication support from a distance should be an extension of the features always available in a program.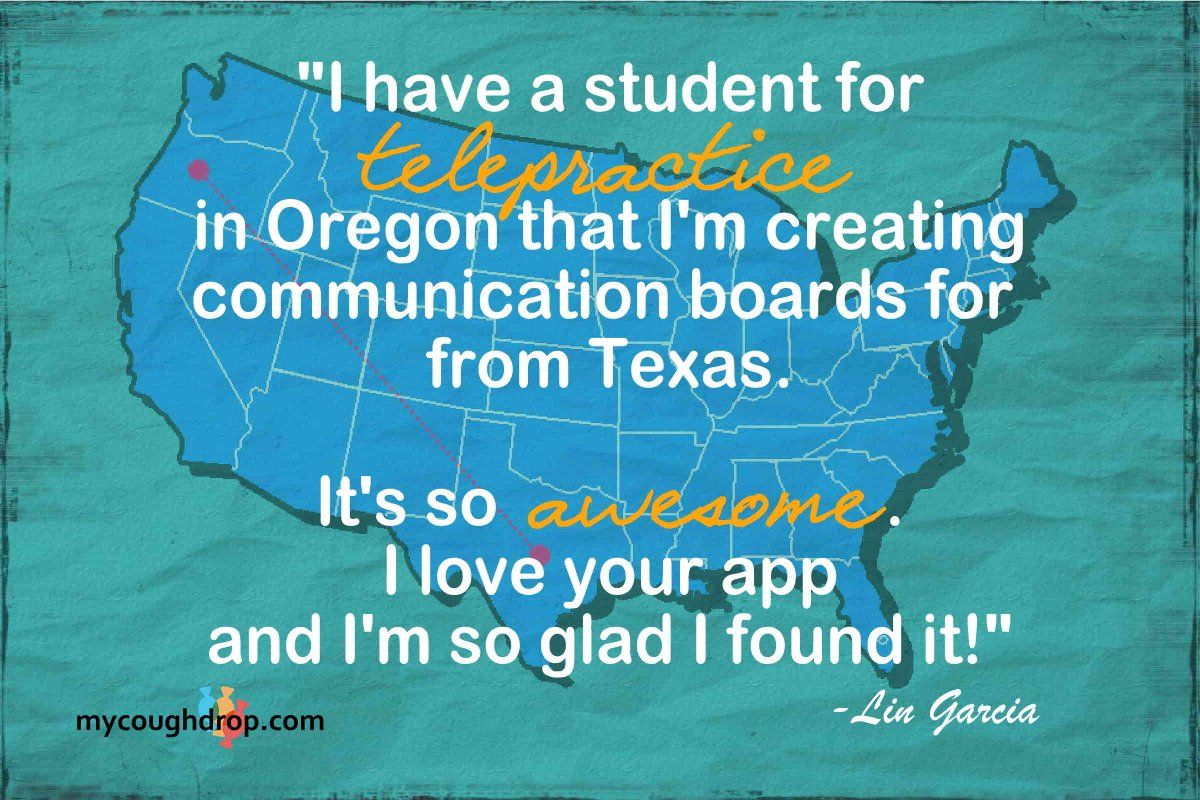 Here are some important functions to keep an eye on and consider as you explore or settle into telepractice for AAC.
---
Access the same account across multiple platforms
Because CoughDrop is cloud-based, it makes it easy to reach the program from any device.  That means that while your communicator is using their own iPad for speech at home, you can hop on your laptop or even your smartphone and still access their account to make adjustments or check their usage through built-in logs and reports.  
Cloud-based changes import to any device accessing the account
Another benefit of CoughDrop's cloud-based nature is that changes made to an account on one device will automatically update to any other device using that account.  This makes it simple to keep everyone connected and on the same page even if you are physically distanced.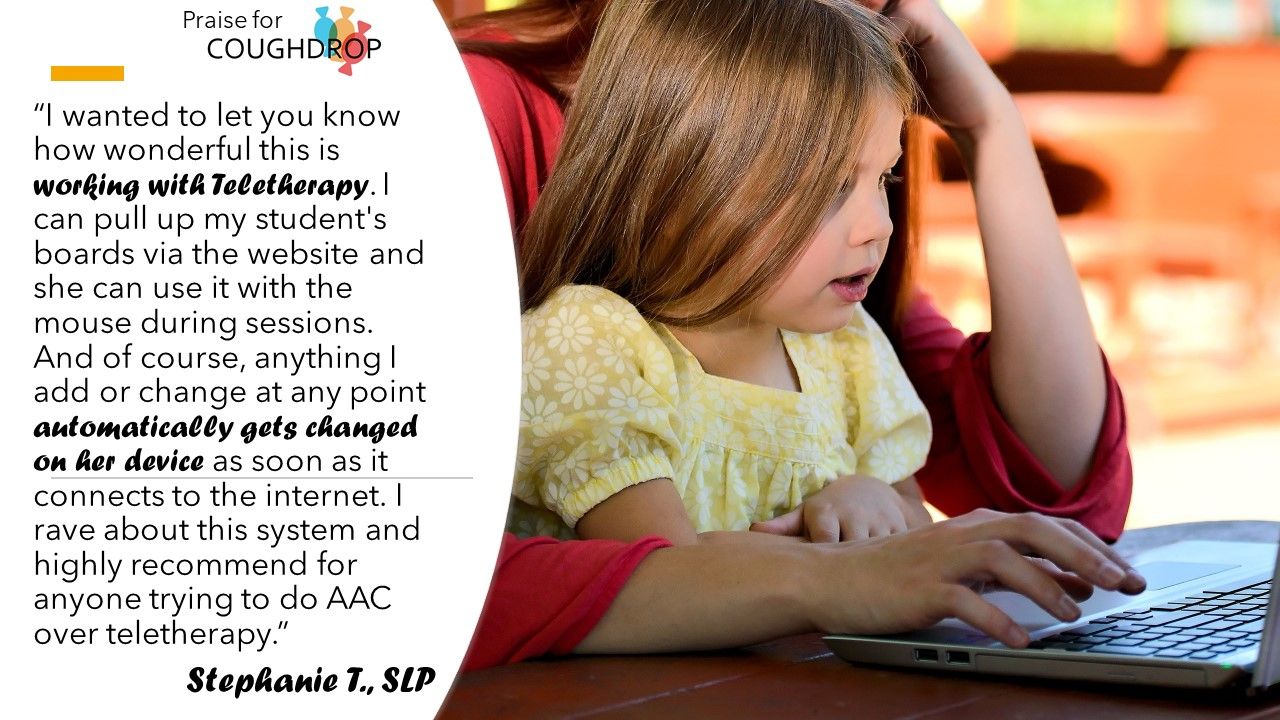 See usage & settings from connected supervisor account
CoughDrop's supervisor function allows supporters to view logs and reports, make board adjustments, and tweak settings for communicators they supervise right from their own log in.  You can supervise multiple AAC users and stay up to the minute on what is going on with each of them through your own supervisor account.  
Share screen, model on web version in Zoom or other video meeting
Because CoughDrop can be accessed through the web, it is quick and easy to share your screen through Zoom, Go to Meetings or another online conferencing feature. Just open your CoughDrop account through the website (mycoughdrop.com) and then model, teach, and communicate to your hearts content to support other member of your AAC team.  
Some conferencing programs will even allow a person to make selections on YOUR screen from THEIR device – that could be an awesome feature to explore with telepractice.
Stay connected with messaging, texts, etc
The whole point of communication is to make connections.  While AAC is all about helping people communicate, having an additional layer of correspondence can be great.
CoughDrop offers a built-in messaging feature which allows communicators and supervisors to message each other, update situations, and share goals and progress right within the app.
You can also connect your CoughDrop account to an email or phone number to message or text a person with which you would like to stay in contact.  
Link your CoughDrop account to your Facebook or Twitter account to post directly on social media.  There are just so many options, and many of them are available right within the CoughDrop app.  
Use built-in fun & learning boards during sessions
Jokes, digital books, piano boards, choose own story, animal sounds – each of these is an option ALREADY available to CoughDrop users.  CoughDrop has dozens of boards shared publicly by members of the community that can be used as engaging options during telepractice.
Find a few of the publicly shared activity related boards within CoughDrop in this article.
You can also use the search bar at the top of your CoughDrop screen to search for boards on a particular topic or idea (Star Wars, anyone?)  That may help you jump start your communication learning and fun.  
Manage a full AAC group using organization management feature – get the deets on the communication picture
Sometimes a communication team is a bit bigger than a supervisor or two and few communicators.  When you are looking to support telepractice for a larger group and keep everyone connected and focused, you might want to consider creating a CoughDrop organization.  This tool helps larger groups link supervisors and communicators, keep reports on usage and interaction, and allows managers to oversee multiple supporters and AAC users all from one convenient dashboard.
Learn more about CoughDrop's organization management feature and how it can help your team during telepractice and beyond.
---
CoughDrop is AAC designed for access from any device for any user.  It just happens that the same functions that make the program great for communication also help make it accessible for telepractice.

Find some additional ideas and suggestions from these AAC in the Cloud sessions on Telepractice:

AAC in Telepractice by Rachel Madel
Overnight Transition to TeleprAACtice Due to Covid-19 by Jill Tullman & Christie Bowers
Attention Grabbing Tools & Ideas for Language Learning by Lauren Enders & Rachel Madel