CoughDrop AAC - World Autism Month Sale 2022
While the need for augmentative and alternative communication extends well beyond any one diagnosis, it's true that many people with Autism find AAC a help when it comes to communication.
In honor of World Autism Month in April, CoughDrop is giving a discount on lifetime AAC accounts purchased through our website to try to make AAC more accessible to families and individuals who benefit from communication support.

While CoughDrop always offers a 2-month free trial so that anyone can be sure AAC is the right fit before making a purchase, this annual discount allows people the chance to great this incredible communication support at a really incredible price.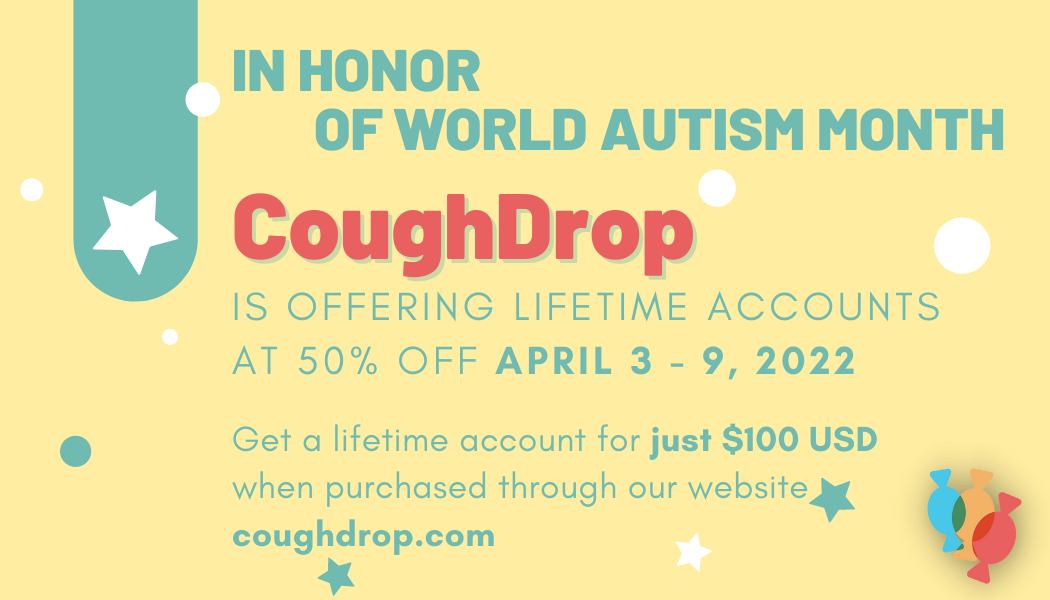 To take advantage of this amazing deal, create a free trial account and then purchase on the "billing" section of your account page.
If you don't yet have an account and want to purchase a discounted gift code to be applied later, you can do that through this link, then apply that code to an account at a later time.
What you get when you purchase
Purchased during this sale, these lifetime accounts will never expire and include all of CoughDrop's built-in AAC features like
Board Creation
Multiple Image Libraries
Translation Features
Voice Selection including 2 Free Premium Voice Downloads
Sidebar Access
Thousands of Publicly Shared Board Sets
Board Printing
Connecting Buttons to Websites or Apps
Modeling Options...and more!
On top of that, every lifetime account purchase also includes access to 5 years of CoughDrop's AAC Cloud Extras at no additional cost.  These functions enhance AAC supports and team integrations to keep everyone surrounding the AAC user connected and focused.  These features include:
In-app Reports
Usage Logs
Team Messaging
In-app Evaluation Feature
Location-based Data
Organization Management Tools
Goals & Badges...and more