FUN with AAC Instruction: Choices to Cheer for during Thanksgiving
While it is true that language touches EVERY topic and idea, sometimes there's something going on that can pull communication center stage and bring learning along with it.  Seasons and festivities, games and stories – there are so many great things to talk about when a celebration is on the horizon.
Often, holidays and celebrations are a FABULOUS motivation for AAC language learning, engagement, and connection.  What new and exciting things are happening right now? Those themes burst onto the scene bringing fresh possibilities for exploration and growth with words.
During this fall and Thanksgiving season, look for chances to develop links between high-yield terms (like core vocabulary words) and the vibrant, seasonal changes all around.
Here are a few timely activity ideas for home or classroom that could be used to draw AAC learners into fun conversations and language growth.
Pre-prep a list of pivotal words relating to the activity.  Be sure you know how to find them in the communication set (CoughDrop's "find a button" features might be helpful.) Pivotal words you might use include things like:

look
see
where
up
down
find
yes
no
good
okay
Print a free Thanksgiving or Seasonal hidden picture page (like this Thanksgiving hidden picture from Dreamstime) and work together to find the concealed images. Be sure to cheer when you find an image and help your student be the best seeker in the room.    
2. Mad Lib: Fill the Word Activity
Use your AAC system to choose words to fill a Thanksgiving-themed MadLib-style story.  This printable MadLib version from SisterSuitcaseBlog might be a good fit.
Help your communicator figure out what type of word is needed but let them be the one to choose what to put in.  Narrow things down to 2-3 choices if too many choices is overwhelming and keep in mind the things you know about this student, maybe steer them toward some of their favorite things to help them be more engaged.
When you finish, think about reading your story to a friend or family member so you can all laugh together (after all, communication is really all about connections).
3.  Bingo for the Win
Playing a game of Bingo opens up a huge vault of word options.  From words about color and location to words describing individual images or topics and even words about numbers or comparisons (more, less, faster, slower, top, bottom, etc) this is a good way to go if you're looking to expand expressions and build new verbal phrases.
A great Thanksgiving Bingo set is available from HappinessIsHomemade through this link.  
Think about which images or ideas your communicator may most connect with and plan to expand around those when they come up.  But don't forget the other side too.  Which images will your communicator dislike?  Those might also be great chances for expression (ugly, don't want, no thanks, different, etc).
4. Thanksgiving Speech Board
If you're looking for a speech board to add to your sidebar or pull up as you talk about Thanksgiving, this one might be a great fit.  This Thanksgiving-themed AAC set includes buttons for many main words but also links to Thanksgiving stories and songs that could be something more to talk about during this month.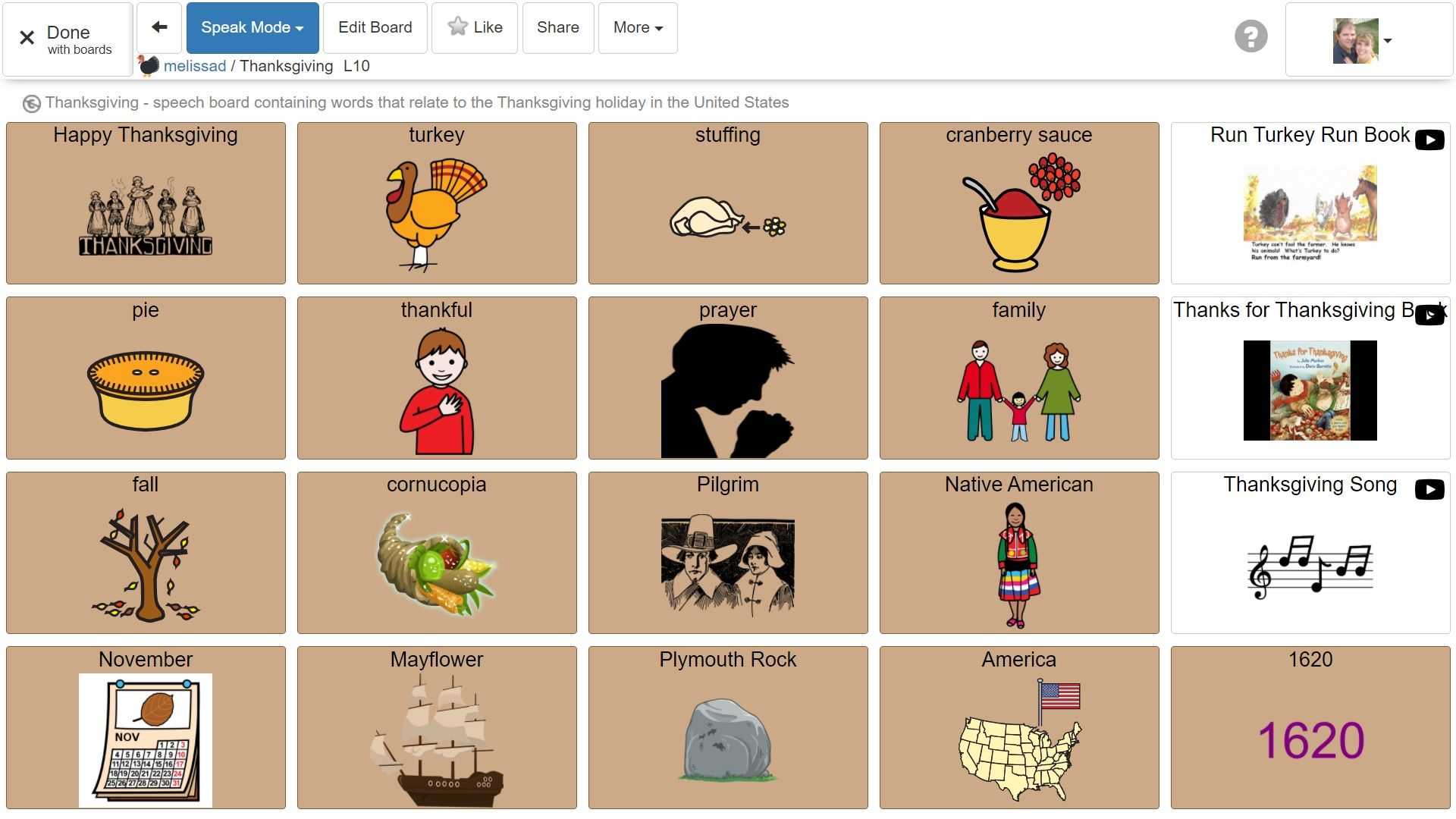 ---
No matter how you say things, communication matters.  Piggybacking on popular holiday or seasonal options can be a fun way to expand language learning and give speech another chance to grow.