How Job Seekers With Disabilities (including AAC users) Can Tackle Their Search for a New Career
Searching for a new job or career can be majorly stressful. When you are living with a disability, you may feel more stressed about finding a good career fit. Specifically, people who use Augmentative and Alternative Communication (AAC) may worry about issues like not being able to reply as quickly in interviews or other interactions with prospective employers. However, with a few tips like the ones below, people of differing abilities can sail through the job search with minimal stress and maximum success.
Protect Your Rights When Working and Job Searching
Before you begin applying and interviewing for a new position, you should be aware of legal protections that cover your job search. ADA rules state that potential employers cannot discriminate against a candidate on the basis of disability and must also make reasonable accommodations during the hiring process. Those accommodations must also be extended to you if you are hired. For those with speech impairments or speech loss, AAC programs and considerations are included, so be sure to ask for whatever you need to make your work more accessible.
Think About Your Primary Goals for Finding a New Job
Now that you know your rights, you're ready to start searching for your perfect job. But what does that really mean to you? Your career goals may center on adding experience working with teams and being a leader to your resume. Whatever your motivations are for finding a new job, writing them out or adding them to a job related speech board can help commit them to your mind so you can find a position that really is a good fit for you. Of course, one of the primary motivators for job seekers is a paycheck, so make sure you give some thought to your own salary requirements before you go in for an interview. Research salaries for similar positions to the one you're applying to, and also factor in your own experience and background.
Get Help Updating and Polishing Your Resume and Cover Letter
Knowing how much you're worth and what you need out of a job is important. Once you have those preliminary questions answered, you can begin submitting your resume for open positions. Before sending your resume to recruiters, take some time to update and review it. It may even be a good idea to have a friend look it over or invest in a resume writing service to ensure you really stand out among the other candidates. Along with your resume, you will also need a sparkling cover letter. Keep in mind that a cover letter should be different from your resume. It should highlight your personality and really grab the attention of recruiters. Talk about your passions and your reasons for wanting the job.
Think About Being Your Own Boss for Max Flexibility
Before you begin sending out resumes, know that being your own boss can offer the most flexibility. Entrepreneurship may be your best bet for a career that really fits you, and getting started is pretty simple. One idea for a startup is e-commerce. With e-commerce businesses, you get to have a say in what products or services you provide and how your business is set up. You can even run your business from your home, which may be more convenient for those with limited mobility or limited communication. Read through this e-commerce guide from Oberlo to learn more about fitting an e-commerce business into your career plans. Worried about funding your small business? Fortunately, there are several business grants available to entrepreneurs living with disabilities so you can stress less about finances and focus more on your career.
Living with a disability does not mean limiting your career opportunities. There are plenty of great positions you are sure to be perfect for, and that will fit perfectly with your needs. Chances are, your diagnosis or disability actually even gives you a unique perspective that a future employer would benefit from incorporating into their workplace. So, take your time preparing yourself for the search, focus on making a standout first impression with your application, and communicating -- however is easiest for you -- that you have what it takes to be a success.
---
Job Interview Speech Board
You can personalize a speech board like this one to help you prepare for questions that will likely be asked during a job interview.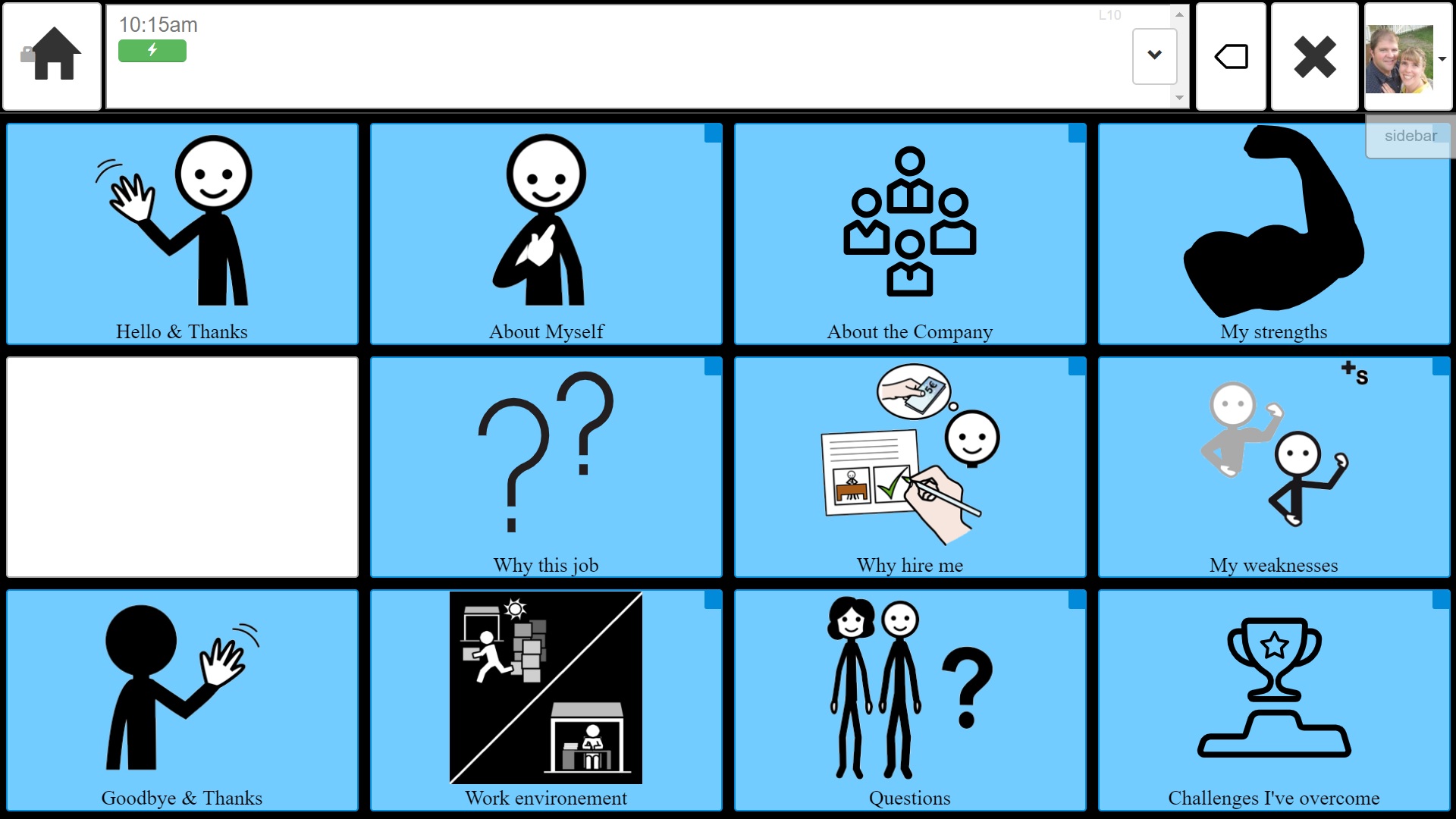 ---
About Jenny Wise: I am a stay-at-home parent to 4 beautiful children, one of whom has been diagnosed with Autism Spectrum Disorder (ASD). My husband and I made the decision to home-educate when our oldest was four years old. During this journey, we have expanded our family, and faced many challenges along the way. With every challenge, we have experienced great rewards.
Photo Credit: Pexels