In-app AAC reports for organizations and schools
Communication is often a one-on-one endeavor -- one person connecting with another to engage, teach, understand, and grow. That is EXACTLY the aim of AAC.
But when there are multiple (maybe dozens, maybe hundreds) of AAC communicators in a district, school, or group there MUST be a way to understand and direct those one-on-one sessions while still keeping a broader view of the organization as a whole.
Actually, there is.
When turned on, CoughDrop's reporting tools will give detailed information about individual communicators, classroom usage, and whole organization data to administrators and managers which helps them shape and guide communication within their institution.
CoughDrop has long provided the option for AAC users to track individual words used, speech by time of day, and core vs fringe words spoken. CoughDrop can even break down statistics by geographical location, provide a heat map of screen presses and that's just for starters (reach out to us to learn all the awesome data CoughDrop can track for you).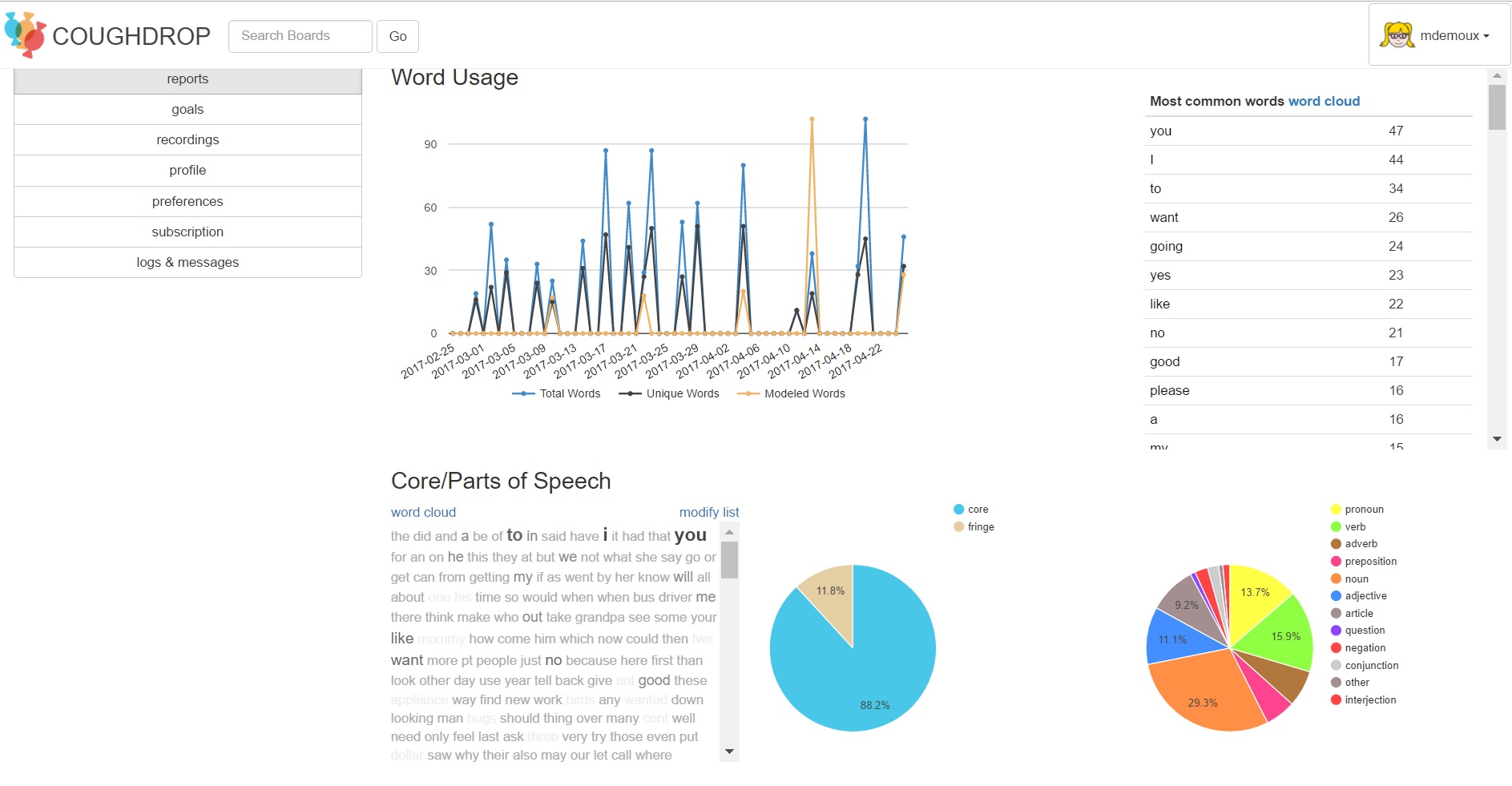 While these insights are powerful for a single AAC user, they become even more interesting when applied to a school or group.
CoughDrop's organization management reporting tools provide active tracking of progress across many users.
Instead of having to compile, print, and decipher dozens of files from dozens of teachers and therapists CoughDrop builds these reports in-app and makes them available on the organization dashboard for quick access by administrators and managers who can easily reach the details on each user, each supervisor, each classroom, or the whole organization with just a couple of clicks.


At a glance see goals set and the movement toward reaching them, see session activity per day or per user, quickly reach any account in the organization to update information or make adjustments.
Who is communicating and who isn't?
Who is using their device outside of school?
Which users are stuck using only nouns?
What kind of progress is each room or smaller group making?
Use this new understanding to create sound IEPs, display growth and learning, motivate and empower parents, and so much more.
By better understanding the communication function of the group as a whole, administrators, teachers, and therapists are better situated to build and encourage the one-on-one communication that will determine the growth of each AAC learner.
And isn't that what it is all about?