Merry Christmas from CoughDrop!
It's Christmas time and we are surrounded by festive sights and sounds of every kind: tinkling chimes, happy carols, nativities, beautiful displays, jingling bells, and don't forget Santa and his reindeer. The holidays give us a chance to celebrate and interact with the people we love.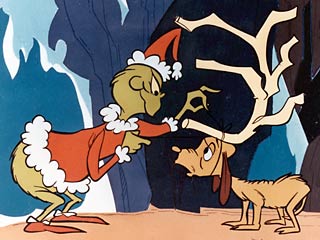 Poor Max couldn't tell his owner how he really felt about their Christmas plans.
But imagine if within your world you could only experience these things in one direction. Think how it would change things for you if your interaction with Christmas magic was only as a passive receiver, rather than an active participant.
Sometimes, when people we care about are limited in communication, they must feel this way. They can see and hear and touch the enchantments that surround them, but it can be a tremendous struggle for them to sing along, express their ideas, or make their desires and feelings heard.
At [CoughDrop](https://www.mycoughdrop.com/?ref=blog" target="_blank) that is exactly what we want to change. We want every single voice to be heard – especially those voices which can be difficult to find.
Our mission is to bring speech to those who need it and to encourage a community mindset. We hope that each budding communicator is surrounded by a strong foundation of support and we want to work with that community to bring sounds out of silence. AAC is an important tool in addressing communication needs, and we are working to make CoughDrop the kind of system that will improve the lives of families and individuals at all levels of communication.
We hope to help get us closer to the point where every student, every child, every family member can actively take part in celebrations. We see a future where each person can share his or her views about simple things like which movie to watch or where to put a decoration but also more meaningful things like how you feel about holiday traditions or which memories are most precious.
Doreen Joseph, who lost her speech following an accident, said, "Speech is the most important thing we have. It makes us a person and not a thing. No one should ever have to be a 'thing.'"
Every person -- no matter their situation -- deserves the opportunity to express what is in their head and heart. Everyone deserves to be part of the conversation, not just a silent entity who sits nearby while lights blink and carols play. Sometimes we have to work to help those voices be heard, and we should all be thankful for the therapists and teachers who on a regular basis work so hard to help struggling communicators bring their voices to the surface.
May your holiday be beautiful and may you be surrounded by the voices of people that you love this season and always.
Merry Christmas from all of us at [CoughDrop](https://www.mycoughdrop.com/?ref=blog" target="_blank).