One per month AAC goals with tracking
Goals really are a catchphrase at the start of a new year, and for good reason.  Good goals help us make progress and track forward movement.  
However, sometimes lofty goals can feel overwhelming and unreachable.  This can especially be true when the goal is something heady like "help our team do better at supporting AAC communication."  What does that even look like day to day? What does it mean in the classroom, in the hall, at home, or in therapy?

Instead of being burdened under the weight of formidable communication goals, try breaking the big idea down into bite-sized pieces that you can take on one by one. These smaller changes can add up to BIG growth over time – and that growth benefits everyone.
To help AAC supporters and teams advance down the path of progress, we've put together an AAC goal-tracking sheet with a number of manageable communication objectives that your team can tackle one by one.  
Choose a goal each month and rally your team behind that effort.  Put up printed reminders, send encouraging texts, and include parents and paras in the attempt. Don't feel like you are REQUIRED to pick a new goal when the month is up.  Take a moment, evaluate progress, and plan from there.  Stick with the goal you've already got or maybe abandon it for something more productive if needed.  There isn't a wrong way to do it as long as your team is pulling together to improve communication in a focused and attentive way.  
Check-in with your team often.  Which goal do they think you should take on next? What cues is your communicator giving about what might be a natural progression for them?  Let their needs and abilities lead you.  
Be sure to cheer as you check off the option once you feel you've mastered it.  Great work, team!
Use the AAC goals sheet to track your progress and keep everyone engaged.
We've also included more individualized images for these goals.  Share them in a group chat or on social media, print them to share with the team, text them to others to encourage the goal, or display them on a poster when completed to create a visual reminder of what you've accomplished.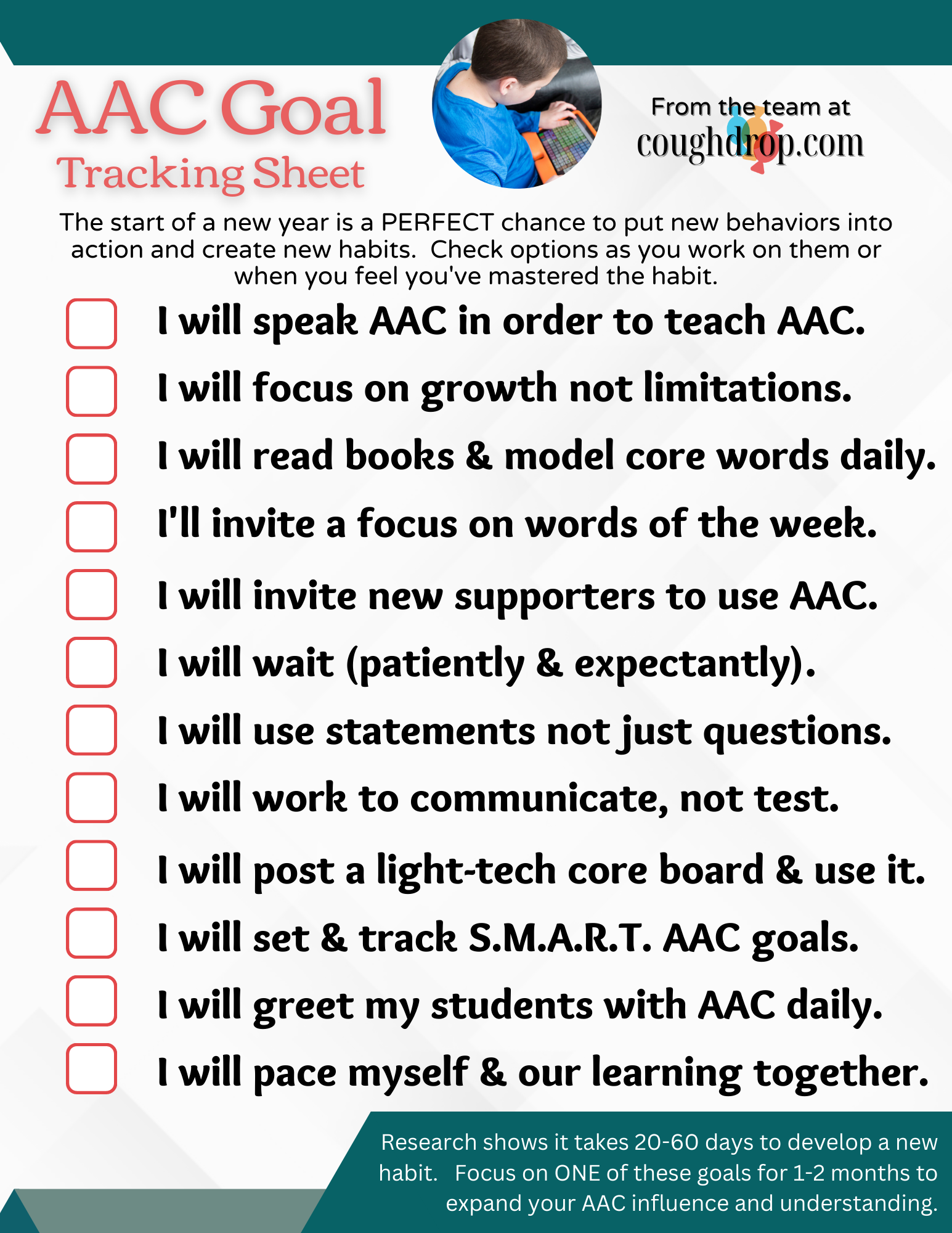 Good luck as you face down the overarching goal of AAC growth.  It may feel like an intimidating objective, but you can totally do it!