Use CoughDrop & Canva to connect high-tech & light-tech AAC (using QR codes)
Recently, CoughDrop released a set of printable, location-based AAC speech boards designed for communication in common places like the playground, library, home, classroom, cafeteria, and bus or car.  Each board contains a number of versatile core vocabulary words some situational fringe and also a QR code that can be scanned to reach a digital version of that board on an electronic device.  
While these boards are a WONDERFUL baseline to share with schools, families, and groups an even better option might be to customize similar speech boards.
You can create your own, personalized CoughDrop speech board or board set and then link a printable version of that board to a scannable QR code to connect the high-tech and light-tech board options.  This union creates a versatile language partnership that will benefit communicators, supporters, and other learners as well.  
Working to make these resources accessible to everyone, CoughDrop has put together a step-by-step video guide to help you pair your CoughDrop digital board with an accessible light-tech version.  
In the video, we use the Canva program to create a file with a printable AAC speech board which also displays a connected QR code to make the digital version of the board available as well.  You can sign up for a free Canva account through their website.  
Using CoughDrop & Canva to pair light-tech and high-tech AAC
One Practical Application
During the year, we've worked with multiple schools and teams to create a similar option for AAC Playground boards across the country.  Thanks to Christine Baudin who originally shared this idea with us and partnered with our team to create our first customized playground communication board.  Learn more about her story and how you can explore that option in the AAC in the Cloud presentation here.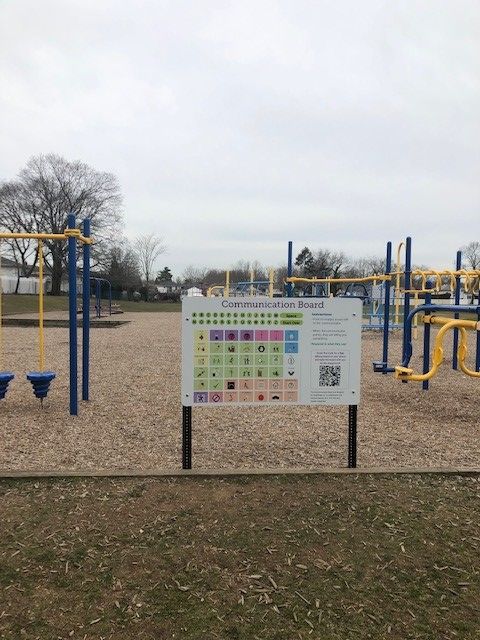 Whether the speech board you create will be displayed on the playground or in the auditorium, in the music room or the bathroom, communication happens everywhere.  Light-tech and high-tech AAC can work in tandem to support language and connection.